Title
Insurance Services
All Area Abstract offers a variety of title services, making sure our clients are protected by a "clean" title, critical in protecting owners as well as lenders against losses because of title defects or liens against the property. We offer our services throughout New York and New Jersey and through our network of contacts we are able to effectively provide our services Nationwide.
At All Area Abstract we want to establish strong bonds with all our clients, including homebuyers and sellers, attorneys, lenders and brokers. Working together, we aim to provide the timeliest title service delivery available.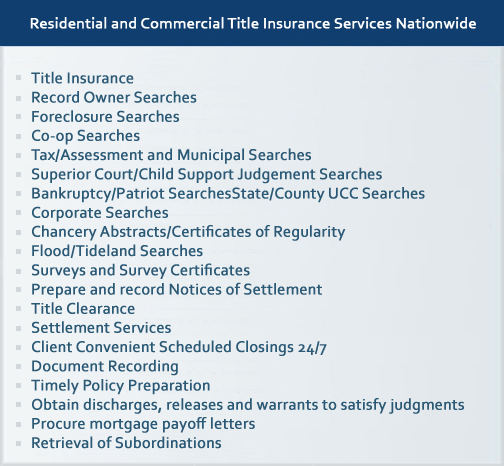 Residential Title
The decision to purchase a home is probably the largest and most important financial decision you will make. You and your lender will want to make sure that title to the property is indeed yours and that no one will have liens, claims, or encumbrances on your property. A title insurance policy from All Area Abstract protects your investment.
Commercial Title
Our expertise extends beyond residential transactions. All Area Abstract's experienced and customer-focused staff is accustomed to dealing with the challenging issues raised during high liability commercial transactions. All Area Abstract is ready to handle your commercial title insurance needs, no matter the level of complexity.